German speaking Captain for 40+ Motoryacht needed
We are looking for a Captain for a 40m+ motor yacht. The yacht is private and not running in charter. The yacht is currently in Sicily/Italy
– the applicant should not be much older than 50 years.
– License Ocean Master 500 GT or Master 200 GT.
– Experience and routine with 40-50 m yachts is essential.
– the applicant should speak German.
Applications by e-mail at info@yachtskipper.de, subject: "Captain 40+Motoryacht".
or by phone. Rainer Holtorff: +49 176 96150247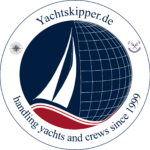 We work on yachts to the principles of good seamanship. Passion for Sea und Ships are our motivation.From tailor-made Crew- or Skippertraining, to the professional Yacht delivery ,or assisted delivery, to the management of a Yacht at one location oder in worldwide cruise: We are partners for industry and owners and can look back on many satisfied customers.
Juni 2018: Törnbegleitung 42 Fuß Bavaria, Überführung Kiel – Mallorca
Thomas Goetzen
Mai 2018: Yachtüberführung Jeanneau 49i Fehmarn – Amsterdam – London – Lissabon
Thomas Goetzen