Yacht delivery and yacht services by professional skippers
Yacht deliveries & yacht services by professional skippers
Why yacht deliveries with Yachtskipper.eu ?
professional, well-equipped skippers and navigators

all skippers qualified to German Skippers' Association (DSV) or RYA standards +cruising experience

our skippersare technically experienced, affable and responsible captains

we are not an agency, but have been at sea ourselves for many years as professional skippers

fair rates, decent wages, transparent billing for all projects

many satisfied customers from all over Europe in over 20 years
Because experience counts!

FAQ'S about yacht deliveries, skipper training and yacht management:
We are used to meeting new ships and crews all the time. Safe handling of people and technology are part of our professionalism. Because every order, every ship and every area are different. When a request comes in, we begin to consider who would be the best fit. We make the selection from a small but fine network. With us, you can book a skipper online, but you will meet a real person who is fully committed to your task.
As an owner, you want to keep the costs of a Yacht delivery as low as possible. It only takes a few clicks on the net to find a skipper who does yacht deliveries. Please bear in mind: Yacht deliveries can become cost traps if they are carried out without good sense; small mistakes can have big effects at sea.
Sometimes we take over yachts that other skippers left behind because they were overburdened with the situation or simply didn't feel like it any more. We have never had anything like this before: Our prices for yacht deliveries are designed so that we can send professionals who are worth their money. In such a network, good advice is not expensive. AYou benefit from the wealth of experience of the individual and the team.
The costs for pure Yacht deliveries are made up as follows:
1.) Basic price: Variable depending on the distance and length of the yacht transfer and boat type and size. This includes a handling fee for accounting and assembling the team, travel, and all pre- and post-work.
2.) The day rate goes off with us from 297€, discountable for longer trips. A daily rate is common, but there are also clients who prefer a flat rate.
3.) Other costs
Food

:

15€/day and crew member

Crewtravel expenses: Will be kept to a minimum

Diesel.

We take advantage of favorable weather windows to keep environmental impact and costs low!

Mooring fees. We know the ports along the way and will find a good solution for you.
Co-skipper: Optional is a paid co-skipper, which is an additional fee, but sometimes useful.
For boat deliveries included in the price are usually:
Weather and cruise advice through our network with the latest routing software.
Sea charts and almanacs for the route
Satellite communication for ocean cruises
Crew guarantee – If a crew member leaves, we will provide a replacement
Skipper guarantee – There is always a skipper on board who is up to the conditions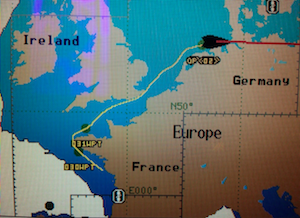 5 days non-stop:La Rochelle-Cuxhaven
For boat delivery, we use experienced skippers whom we trust and have personally experienced as co-skippers. In addition, our skippers must be qualified according to RYA, DSV or other equivalent standards. We also consider feedback from crews and customers in our selection process. For us,professional skippers are not just holders of sailing licenses, but all-round talents who have both good technical and nautical knowledge, who are good with people, and who have an idea of how to lead a team in the 21st century.
We strive to prevent any damage, no matter how tiny, from the yachts entrusted to us and, fortunately, we do not have to admit to any major damage. Nevertheless, something can of course always happen during Yacht deliveries. In addition to the yacht's hull insurance, we therefore make sure that our skippers are equipped with skipper's liability insurance, which covers the essential risks of a Yacht delivery. Another important aspect in terms of safety is the careful technical inspection by our crew before departure. If we find deficiencies that jeopardise the safe passage of a sailing yacht, we turn them off before we set off.
Yacht Transport by ship are inconvenient and sometimes come with one or two unpleasant surprises. For example, damage during loading, heavy oil films on decks, delays due to technical problems, unexpected additional costs, changes in dates or routes at short notice on the part of the shipping company, etc…. These are all Experiences that yacht owners have told us about boat transports by cargo ship. Sure, there are situations where it makes sense to move your yacht as deck cargo, but often an experienced, tech-savvy crew can deliver a yacht without the vessel being compromised by its use. On the contrary, experienced sailors take care of a yacht and maintain it on the way. The prices for boat transports, especially for oversize boats on their own keel, are often significantly lower than those for a cargo ship. In addition, yacht transportis less bureaucratic and faster.
Our skippers have many miles in their wake and are used to dealing with people on yachts. Just as we do with a If we assess the skills of the crew members during a delivery trip, we also use the student's level of proficiency as a basis for skipper training in order to build on this. For this purpose, we often undertake a training trip, during which all aspects of seamanship are examined and practiced in turn. Or we focus more on individual aspects: for example, port maneuverswhich we practice until the ship is clearly mastered. In our skipper training, the need results in the teaching program, not the exam material. And it is not theorists who train, but people who themselves travel a lot with yachts.
We are professional skippers who know the business. For example, when it comes to hiring service providers such as sailmakers or an engine specialist, knowledge of pricing and experience is essential to avoid inflated bills. We have experience in how things are done in yacht yards, can create technical logbooks and know how to approach work lists efficiently. Many questions that arise during the maintenance and operation of a yacht are coordinated and clarified within our network. For yacht management, we use cloud-based databases to integrate multiple partners.
We provide maintenance, take care of shipyard visits, supervision and care. Your yacht will be professionally managed and will always remain seaworthy. All data and services are centrally managed so that the yacht can be moved to a new berth without any problems. We take care of the right service providers on site. Our customers include private individuals as well as travel companies and corporations such as the German engine manufacturer MTU.
We work on yachts, according to the principles of good seamanship. Passion for the seaand shipsis what drives us. From tailor-made crew or skipper training , to professional Yacht delivery or cruise assistance, to the Management of a yacht at one location or in worldwide voyages: We are partners for industry and owners and can look back on many happy customers.
We work on yachts, according to the principles of good seamanship. Passion for the seaand shipsis what drives us. From tailored crew- or skipper training, to professional yacht delivery or cruise assistance, through to the Management of a yacht at one location or in worldwide voyages: We are partners for industry and owners and can look back on many happy customers.